Once you have picked up your bike, head over to the Blue River Bikeway. This bikeway will take you all the way to Frisco, Colorado. The ride is just under 9 miles and will take you 45 minutes to an hour to reach Friso's Main Street without any stops. While you are riding down the bikeway, you will have endless opportunities for photos and breaks if you need them. Going to Frisco is a mellow ride with an elevation gain of 186 feet.
If you are interested in having a pre-bike ride beer, you can start your day off at Breckenridge Brewery. Breckenridge Brewery opened in 1990 and is the third-oldest craft brewery in the state of Colorado. The brewery grew so much that in 2015, they moved their Denver location to a 12-acre piece of land in Littleton where they have a 100-barrel brewhouse and barrel aging room. If you love their beer and do not want to carry it on your ride to Frisco, do not worry! Breckenridge Brewery sends beer to 35 states so you may be able to pick some up in your hometown.
Once you are on your bike, the first brewery you will find on the path is Broken Compass Brewery. This brewery opened in 2014 but quickly became a popular destination for people visiting Breckenridge. Broken Compass Brewery has a wide array of beers so no matter your taste, you will find something you will love! If you are a whiskey fan, Broken Compass has the beer for you. Their "Breakin' The Laws-Whiskey Barrel Aged Barleywine" is aged in LAWS whiskey Barrels.
Break's over, time to get riding again! Next stop is Highside Brewery and BBQ in Frisco. You have earned this beer! Highside Brewery has a great outdoor space with views of Lake Dillon that you, your friends, and family will be sure to enjoy. If you are lucky, they will have live music playing too! Now would be a great time to grab some lunch. With their extensive BBQ menu, you and your group will be satisfied after that bike ride.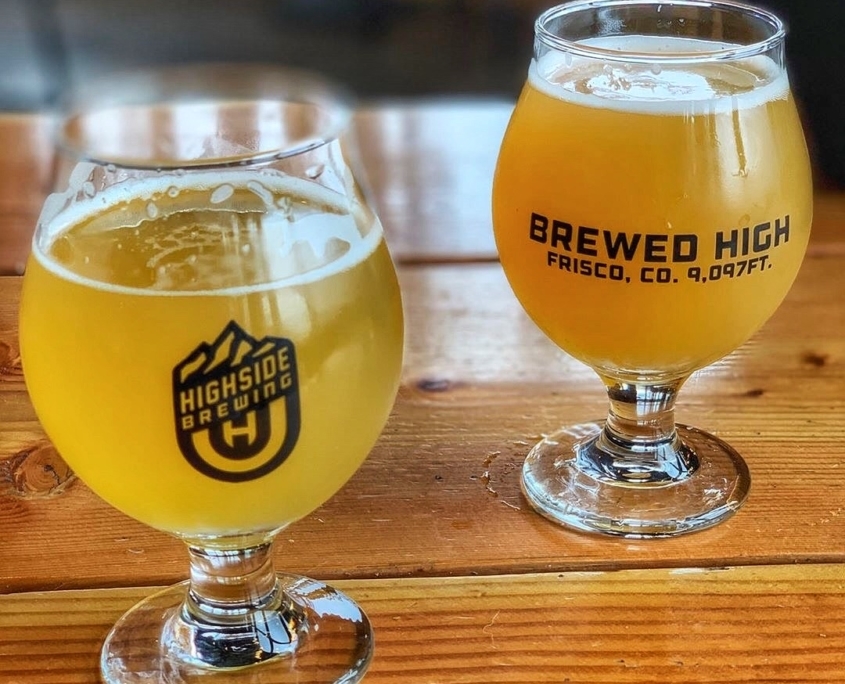 If you're not kicked yet, we have one more stop on the tour! Down the road from Main Street is Outer Range Brewing CO.  Outer Range focuses on Belgians and IPAs. This brewery has won many awards since its opening in 2016. In 2018, USA Today voted Outer Range as the second-best new brewery in the US. In 2019, they were included in the top 15 breweries of the year by Craft Beer and Brewing. If you appreciate can art, try and take a look at the cans they have for sale. You will not be disappointed! Outer Range is another great option for lunch after your bike ride. Their menu consists of Thai-inspired fried chicken dishes.
And that's a wrap! No matter which stops you decide to take on your ride from Breckenridge to Frisco, you will have gotten a good taste of what Colorado breweries have to offer. If you do not want to ride back to Breck after your endeavors, drop your bikes in Frisco and we will come pick you up with our shuttle service!