You've been hitting the slopes, honing your ski or board skills all season. You're flying, you're confident, and it's time to take your skills to the next level. Sound familiar? Ready to up your game and try out a new adventure?
Freestyle terrain parks might be just what you are looking for to improve your skills. From the lighthearted fun of Eldorado to the extreme features on Park Lane, Breckenridge Resort offers world-class terrain parks with something for every level of thrill seeker. Breckenridge has a history of excellent terrain parks, as Dew Tour, the extreme sports circuit, took place at Breckenridge years prior.
World-class athletes and course designers collaborated to develop large and special courses used specifically for the Tour, and after the event, Breck would leave these parks up through the end of the season for the public to ski. This year, the event will take place at Copper Mountain, February 23—February 25, 2023.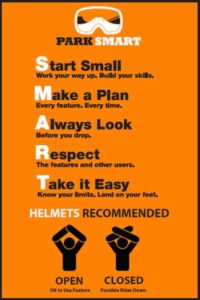 Understandably, freestyle terrain parks can be initially intimidating–a completely normal feeling for all riders! Keep in mind, your priority on the slopes should always be the safety of yourself and other riders. As with most learning experiences, we suggest starting small and riding within your skill level. Check out this video for helpful tips from the National Ski Areas Association on how to stay safe and have fun. Breckenridge also outlines their safety advice here. These tips include:
Start with a plan
Check out the terrain first
Increase your level slowly and cautiously
Always respect others in the area.
According to this season's Winter Trail Map, there are three main terrain parks within Breckenridge Resort: Eldorado, Highway 9, and Park Lane. Take a look at all Breckenridge has to offer and begin planning your next jump. Terrain parks are unique in that they change every year, and you can anticipate more features with more snowfall!
Eldorado terrain park is the smallest of the three and easily accessible via the Quicksilver Superchair. With approachable features geared toward beginners, Eldorado is the perfect place to practice fundamental skills and build your confidence. This year, you can find a mixture of small jumps and perfect boxes for beginners.
Once you feel ready to progress, hop on the Beaver Run Superchair, ride down Bonanza, and you will find Highway 9. This medium size terrain park caters to those at an intermediate skill level. Here, you will be able to advance to bigger features, such as rails, jibs, and boxes. Even check out a triple jump line this year for an extra challenge! Peak 9 hosts both Eldorado and Highway 9, making it possible to enjoy both parks in one run.
Lastly, we present the true gem: Park Lane, the largest terrain park in the resort. Also known as the "Locals' Park," you can find Park Lane on Peak 8. Only experienced riders should attempt this park, as it contains the most advanced features. So far this season, Park Lane offers a tube, a flat box, a down rail, a flat down box, and plenty of big jumps to elevate your thrill! Not ready yet to ride Park Lane? Plenty of spectators also come to watch, cheer, and provoke the stoke! Click here for video of professional skier, Bobby Brown, tearing it up on Park Lane.
Regardless of the park, always start off by familiarizing yourself with the safety regulations, terrain and warnings. Grab some friends, plan your next adventure, and don't fear falling! Practice makes progress.
The correct gear is also a must for an enjoyable day on the mountain, regardless of your skill level. Be sure to read our previous post on how to choose the right size ski boot! If you are in need of top of the line ski and snowboard rental gear, look no further than Breckenridge Ski & Sport. Now with two convenient winter locations, Breckenridge Ski & Sport is fully equipped to support snow sport enthusiasts of all levels. Take advantage of in-town pick-up or stop by for waxing and tuning services. Book now for the best rates in town!
Written by Jessica Schulze, former Breckenridge Ski & Sport Sales Agent
Edited by Rosa Canales, Marketing Specialist